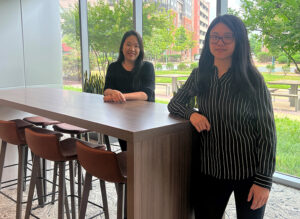 One goal, six exams, a career milestone – passing your Architect Registration Examinations is no easy task as many in the AEC industry know. Those sought-after letters after your name that everyone works towards. Wilmot Sanz proudly recognizes two newly licensed female architects in Dorris Hwang, RA (right) and Caty Tran, RA (left). We sat down with both to understand what this accomplishment means to them in their careers.
First, we spoke with Dorris – as a newly licensed architect who focuses her time on our firm's quality control and exterior quality management, she advocates for healthy, sustainable, and resilient enclosures for our healthcare facilities.
Q: Dorris, what does getting your license mean to you?
A: It gives me a great sense of accomplishment. This is a goal that a lot of designers, including myself, work towards after completing school. I've appreciated all the support our firm provides, from study materials to education allowances.   In addition, achieving my licensure is important to me in terms of increasing visibility of women in architecture. Frankly, we need more women architects. Let's continue the upwards trend in this creative and rewarding profession!
Q: What gets you excited about architecture?
A: The collaborative design process, especially in healthcare design. These facilities have a great impact in the community – not only on the patients and their families, but also the staff – doctors, nurses, technicians, counselors, and more. When we can bring together these different perspectives into the design process, opportunities for innovation abound. I love seeing how that can make our designs better.
Q: Where do you see your career going from here?
A: I'm excited to further my role in the firm focusing on improving the quality of our design details and systems. The more we can support our staff with a robust network of resources, the better our projects will become.
Next, we sat down with Caty to dive into her licensing journey – as a newly licensed architect, she takes on the role of Project Architect on her way to becoming a Project Manager, on many of her healthcare projects. She has focused most of her time here at Wilmot Sanz working on cancer center facilities but is excited to explore what's next. She is passionate about sharing knowledge and best practices with younger staff, specifically around our design technology platforms.
Q: Caty, how did it feel earning your architectural license?
A: Well, to be honest, I didn't have a streamlined journey. After six years of school, then putting in the hours to qualify to sit for my exams, it took about three years to pass all six tests. It was hard to balance the pressure and expectations of passing tests on the first try – with the information on the exams. However, after a 9+ year journey, I did it. Now, my next challenge is applying all this knowledge to my day job. Easy, right?
Q: What gets you excited about architecture?
A: I love working with our clients, the end users of our projects. Understanding what makes a good design, but also a good environment for end users. We need to know what the people who spend their time in these spaces daily want and need to function and be happy.
Q: What interested you in healthcare design?
A: Initially, I pursued architecture because I didn't share an interest in nursing or engineering with my parents and brothers. After working in healthcare design, I've started to take interest in both – especially when design meetings start to feel like dinnertime shop talk with my mom and older brother.
Healthcare is constantly evolving, and each project type is different, you are exposed to so many space types and details in this market. Every project I have worked on has its own set of quirks and challenges and I love solving these for our clients.
Q: Where do you see your career going from here?
A: Well, I want to continue to work towards being a Project Manager and become a subject matter expert in healthcare. I am still exploring which project type brings me the most passion, but the options are endless, and I am excited for the future.
Congratulations again to our two newly licensed female architects, Dorris Hwang, RA and Caty Tran, RA. We can't wait to see what your future at Wilmot Sanz will bring!
ABOUT WILMOT SANZ
Wilmot Sanz is a leader in healthcare design. As a firm, we improve complex healthcare environments with thoughtful architecture and interior design solutions. Our exceptional client service is supported with high-performance resources and cutting-edge technology. We carefully maintain the efficient operations, culture, and accountability of a local mid-sized firm to serve our clients nationwide.