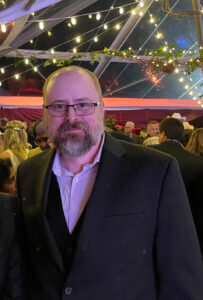 As a project manager at Wilmot Sanz, Matt Ryan uses his career as a way to improve the community around him.
What does your work at Wilmot Sanz focus on?
I typically work on complex hospital renovations and additions.
What are some of the challenges that arise with this type of work?
Working on renovation projects, we almost always encounter existing conditions that were unforeseen and pose a challenge to the design. Working these out requires close communication between all stakeholders and lots of patience and creativity! Even straightforward seeming additions can be complicated too – they can be much larger and there are so many pieces of the puzzle to work out.
What led you to architecture and the healthcare design industry specifically?
I have always loved to draw and to study how things are put together. From a young age, one of my favorite toys was LEGO blocks. So, I always knew I wanted to explore a career that allowed me to be creative but also highly technical.
Before starting at Wilmot Sanz, I was in the Air Force which taught me the importance of quality work and the hours of effort that happens behind the scenes of a job. Once I began the process of choosing my career path as an architect, the detailed draftsmanship of hand drafted architect sets captivated me. With my background and interests, I knew architecture was the right choice.
Specifically for healthcare architecture, I kind of stumbled my way into a perfect fit. My drafting professor at Catholic University provided me with a connection at a local architecture firm, which luckily was Wilmot Sanz. I didn't know at first that I would develop a passion for this industry, but I have found the healthcare industry to be both challenging and rewarding. I couldn't imagine dedicating my work to anything else.
Recently, you have led a lot of work in Montgomery County, specifically major expansions at Adventist Health Care Shady Grove Medical Center and Suburban Hospital: Johns Hopkins Medicine. A lot goes into designing and building for different jurisdictions. Could you Share a little bit about what's unique about delivering projects successfully in Montgomery County?
Montgomery County has a number of requirements that vary depending on what kind of project you are doing. Understanding what requirements apply to your project and opening up a line of dialogue with the county early to iron out any potential questions or misunderstandings is crucial to a smooth permitting process. It also creates a relationship with the reviewers that you can build on over the years.
These major projects are transformative in scale. Can you talk more about what it is like to have the opportunity to improve our local healthcare facilities and the impact that it has on our community?
It's an incredible opportunity. Often times your project is small enough that you can see impacts to the staff but nothing really beyond that. When you do a large project you get to interface with the community and hear about their concerns. Through this dialogue, you can build a rapport and be part of the story of the design team, the owner, and community coming together to move a project forward. When you create new buildings, you also get a chance to transform the kind of patient care an organization delivers. Many times, a facility's existing units are decades old, with undersized patient rooms and support infrastructure. When they are brought up to current standards, the change is transformative for the staff, the patients, and those in the community.
What are some of your personal passions outside of the office?  Do any of these influence how you approach your work?
Gaming, hiking, watching TV, reading.  Gaming has given me a fantastic ability to pick up software very quickly!
Who inspires you?
My parents. They raised four children and kept their sanity. Also, they were the ones to instill most of my ethics and way of looking at the world and people.
Fun Facts
I'm a huge nerd and love anything Star Trek or Star Wars
I love trains and building model train buildings and landscapes.
Every now and then I'll break out a classical book like something by Ovid, Socrates or Plato.