Wilmot Sanz is thrilled to welcome two new hires to the team this summer who will complement both our architecture and interior design practice. Our growing team is made up of talented individuals that are passionate about healthcare design and creating impactful environments for our clients.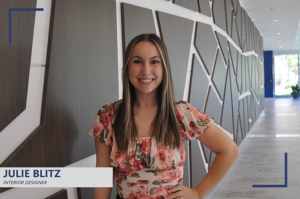 First, we spoke with Julie Blitz, an interior designer who recently graduated from Virginia Tech with a Bachelor of Science in Interior Design. Julie returns to Wilmot Sanz after serving as a summer intern in 2022. Through her time at Virginia Tech, she developed a passion for the built environment that was strengthened by her fellow classmates and professors pushing her to be her best.
Q: Julie, how did you decide to pursue a career as a designer?
A:  I went to school thinking interior design was for me but initially decided to enroll as undecided, getting my feet wet with a residential design course that sparked my interest and was not too challenging. When I stepped into a studio environment I was exposed to "studio culture" and the projects of my peers which is when I knew this career was for me.
Q: How did you find your passion for the healthcare design industry?
A: From a very young age I realized the effect the built environment has on your mental health. I grew up as an anxious kid, making me very attuned to which environments made me feel calm versus anxious. This inspired my passion for the built environment and when I did my twelve-week internship at Wilmot Sanz last summer, my love for healthcare design came into focus.
Q: What do you hope to achieve in your career?
A: I want to be proud of the designs that I create and say that they have made a difference to the people that experience them. Another goal I have is to get my NCIDQ certification and I just registered for my first exam!
Q: What are some of your hobbies and passions outside of your career and work?
A: I am big on wellness and working out, which also doubles as my escape from the chaos of everyday life. I am a huge foodie and love trying and cooking all types of new foods; my specialty being a family-style crock-pot meal.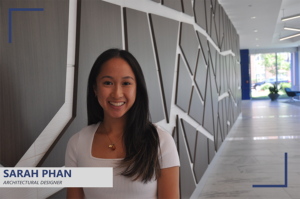 Next, we sat down with Sarah Phan, a new alum of The University of Maryland, School of Architecture, Planning, and Preservation. Sarah graduated with a Bachelor of Science in Architecture with a Minor in Construction and Project Management. In school, her love for hand drafting and post-production allowed her to grow into the designer she is today.
Q: Sarah, when did you know that architecture was the right profession for you?
 A: The typical architect's answer is "I loved playing with Legos.", but with me the answer goes far beyond that. Using different methods of arts and crafts became an outlet that allowed me to grow into the creative person I am today. I lost my creative passion as I grew up, but it was reignited when I went on a two-week vacation visiting five different countries in a short time span.  I remembered each country and city by its buildings, and that is when I knew architecture was right for me.
Q: What brought you to work in the healthcare design industry?
A: I never had any prior experience with healthcare until I started at Wilmot Sanz. This opportunity came to me, and I was hesitant at first because I knew nothing about healthcare. Once I got here, I was inspired by the effect buildings had on a patient's healing process, the experience of the staff, and visitors' comfort. I used to have a very negative association with hospitals, but now I get to improve the experience of another person and that is very rewarding to me.
Q: As you start your career as a designer, are there any goals you hope to reach in your career?
A: I hope to gain my LEED or WELL AP certification. As for later down the road, I would love to pursue licensure or potentially a Master of Architecture.
Q: Do you have any passions outside of architecture?
A: I love to cook. My Dad is from Vietnam and my Mom is from the Philippines, so I grew up with exposure to those cuisines and found a love for preserving my culture through cooking. My favorite things to cook are Pho, Cheesecake, and Coconut Cream Pie.
We are excited to see what Julie and Sarah will bring to our firm's work and culture now and in the future. Welcome aboard!
ABOUT WILMOT SANZ
Wilmot Sanz is a leader in healthcare design. As a firm, we improve complex healthcare environments with thoughtful architecture and interior design solutions. Our exceptional client service is supported with high-performance resources and cutting-edge technology. We carefully maintain the efficient operations, culture, and accountability of a local mid-sized firm to serve our clients nationwide.