"Amy's leadership brings new energy across all our marketing and communications efforts. She offers results-driven solutions that will guide the firm in connecting regularly and meaningfully with our healthcare clients and partners. We look forward to the measurable positive impact that she will have on our firm both immediately and in the future."
- Kristen DelGandio, CHID, NCIDQ, IIDA, Partner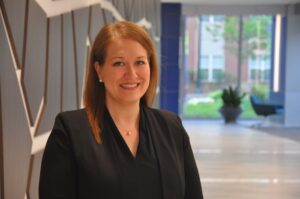 Wilmot Sanz is pleased to announce that Amy Cuddy, CPSM has joined the firm as our new Director of Marketing and Communications. Amy is widely recognized for her contributions to marketing and communications for architecture firms across the DMV. She will be working with firm leaders to pursue challenging new projects in healthcare and tell the stories of Wilmot Sanz. With more than 15+ years of experience in marketing and business development for design firms, she brings expertise in digital marketing, public relations, internal communications, budgeting, and operations. An organized and enthusiastic leader, she enjoys working on complex projects with architectural partners and members of her team who are as passionate as she is. 
"My approach to communicating market expertise lies in understanding how individuals think and tailoring messaging to an audience's specific interest. I am excited to be with an exclusive healthcare design firm, a new market for me to sink my teeth into," said Cuddy. "The dynamic culture here Wilmot Sanz matched with the core expertise in the talented individuals that work here create a professional force that I am thrilled to be a part of. Great things are coming."  
Amy joins Wilmot Sanz with a background in digital communications and experience working across the region for architecture firms specializing in residential, government and higher education. She is a Certified Professional Services Marketer (CPSM) and has served as a volunteer and leader in the Washington, DC chapter of the Society of Marketing Professional Services (SMPS) for more than a decade. Acting as the current President of the SMPS Washington, DC chapter, she shares her knowledge and best practices in marketing and communication leadership through speaking engagements, mentorship and networking. Personally, she volunteers her time with organizations such as the American Heart Association and the Cystic Fibrosis Foundation.  
ABOUT WILMOT SANZ
Wilmot Sanz is a leader in healthcare design. As a firm, we improve complex healthcare environments with thoughtful architecture and interior design solutions. Our exceptional client service is supported with high-performance resources and cutting-edge technology. We carefully maintain the efficient operations, culture, and accountability of a local mid-sized firm to serve our clients nationwide.