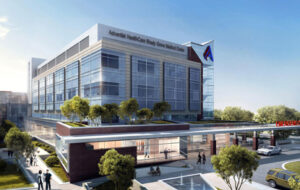 On May 10, 2023, Adventist HealthCare broke ground on the New Patient Tower at Shady Grove Medical Center. The new 150,000 SF tower will update and right-size the emergency department and create modern critical care and medical-surgical units that will serve the evolving needs of the community. 
With an estimated delivery in 2025, the New Patient Tower will allow the hospital to provide patients with all-private rooms throughout the campus in addition to creating improved workflows for physicians and staff with the repositioning of critical care, observation and emergency psychiatric treatment units.  
Outdoor patios and an ICU Terrace will allow patient families and caregivers areas for respite and to connect with nature. In addition, the design features a 20,000 SF green roof covered with a variety of plant species which are beautiful but will also aid stormwater management. Nature will also be incorporated into the design through vivid, high-resolution images in patient rooms and nurses' stations and in staff lounges with rejuvenating views of the outdoors. 
The design team celebrated with the clients, contractor, clinical staff and many others during this exciting project milestone. We are thrilled to be one step closer to seeing the project come to life and serving our growing community.
ABOUT WILMOT SANZ
Wilmot Sanz is a leader in healthcare design. As a firm, we improve complex healthcare environments with thoughtful architecture and interior design solutions. Our exceptional client service is supported with high-performance resources and cutting-edge technology. We carefully maintain the efficient operations, culture, and accountability of a local mid-sized firm to serve our clients nationwide.